Cramlington Cycling Club are based in Cramlington, Northumberland – 10 miles north of Newcastle. We currently have about 60 members. You may have spotted our very distinctive "retro" style club kit in red, white and blue on the roads in the area.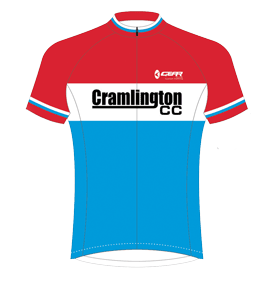 Club members cycle for many reasons: pleasure, fitness, commuting, competition and sometimes just for the hell of it!
We hold club runs most weekends of the year (weather permitting), meeting outside Cramlington Manor Walks Shopping Centre.
Time Trials are organised during the racing season and we also hold road based and indoor training sessions. We have also be known to organise the occasional club social event !
Potential new members are always especially welcome to come along, meet us and come on a ride to see it is for them before joining. Don't be shy – drop us an email to info@cramlingtoncc.org if you want to know more.